DocUmeant Publishing's Feature Author

ocUmeant Publishing is pleased to showcaseauthors and their accomplishments. Here you will find more information about our featured author. As we continue to see our authors reach even greater heights we are proud to have been a small part of their authorship success journey. Join me in wishing congratulations to our author of the month.
Sherry Duquet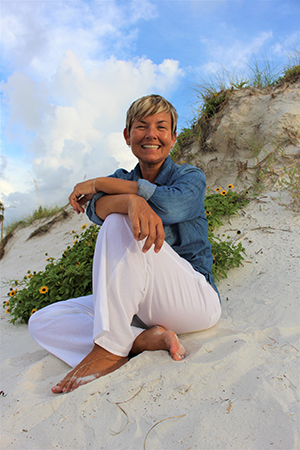 herry is a yoga studio owner, yoga instructor and renowned hugger. She loves working self-hugs into her yoga classes and believes that loving ourselves is a radical idea whose time has come. She is obsessed with elevating the self-esteem and positivity of men, women and children one book, one yoga posture, and one smile at a time. 
Sherry has been published as a contributor in four different compilation books including three Lark Books from Sterling Publishing as well as, My Diary Unlocked, a diary-based self-help book for women and teen girls. 
An internationally award-winning jewelry designer, Sherry turned her design talents into helping others, with Project Mother's Day. This campaign provided jewelry for children in domestic violence shelters across the country, so they would have a gift for their Mom on Mother's Day. It raised the self-esteem of children in shelters throughout the U.S. Featured in Family Circle magazine, the Detroit Free Press, Style, local radio stations and podcasts for this venture, Sherry translates her profession into philanthropy with ease and purpose. 
Combining her passion for the ocean, sharing self-love and uplifting others; Sherry volunteers with an organization in St. Pete Beach, Fl. She offers gentle breathing and easy yoga postures aboard sailboat excursions for those facing serious health challenges and their caregivers. 
Sherry lives at the beach with her family and their rescue dog Chloe. When she isn't writing or teaching yoga, Sherry can be found at the beach collecting sea shells and sand dollars. 
Stay connected with Sherry www.VioletHugs.com and sign up for the eNews to be the first to know about the latest news and cool events. 
Follow Sherry on Facebook

Works
Violet the Hugging Octopus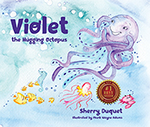 wimming with confidence and bursting with joy, Violet greets her friends Pufferfish, Moray Eel, Jumbo Shrimp and Stinging Ray. She is outlandishly happy which excites their curiosity. What is her secret? How is she so happy? Can they be that happy too?

Inside the book!!
Seaside Chat discussion questions that can be adapted for all ages.
Watch for additional titles in the Sea Yourself, Be Yourself Series
Available in Print & Digital on Amazon.